Even in web design, trends come and go. Some become classical elements that have universal appeal, while others fall by the wayside as fads. While it might be difficult to predict what trends in 2021 will matter, you can achieve a modicum of success if you avoid web design mistakes of the past.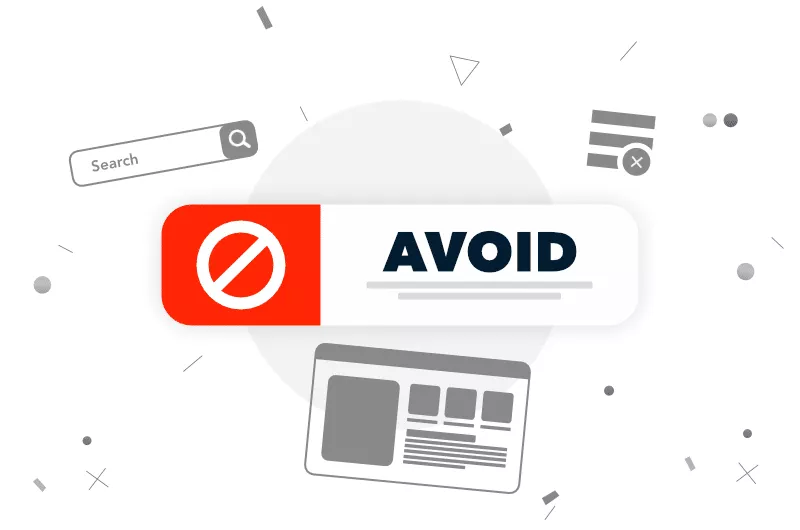 To help you navigate this complex field, we have created this list of the most common website mistakes. Avoid the following pitfalls to ensure better traffic and more conversions:
1 – Splash pages
Not to be confused with landing pages, splash pages are promotions or disclaimers that appear once a user ends up on the site. Splash pages often leave the user feeling annoyed; rather than succeed at calling a visitor to action, it might cause a user to rush quickly to exit the page.
In 2021, there are plenty of alternatives that are more pleasing to users. After all, users should get the result they were expecting.
2 – Having ill-defined navigation
The number one rule in web design is to ensure visitors' ease of use. Website visitors must get to their goals in as few clicks as possible, which makes well-defined web navigation necessary. Outlining and structuring your website in such a way that all aspects of it are easily found can mean the difference between a frustrated user and a conversion. It can help visitors find what they're looking for much faster.
3 – Having no search bar
Whatever product you provide or industry you might be in, if your website has more than a few pages, you will need a search bar. This simple feature can help a user find what they're looking for almost immediately. After all, you want your user to make that purchase before they hesitate.
4 – Having no mobile version
In 2021, we might even argue that your website should prioritize its mobile website. More and more eCommerce transactions are being conducted worldwide on phones rather than computers. Without planning for mobile, you would leave the users to deal with an interface that is inconvenient on smaller devices. This might increase your bounce rate—the rate at which users enter and leave your website immediately after.
5 – Strategizing your CTAs all wrong
The call-to-action is one of the keys to success. Without a CTA, a user might just flounder about without deciding to buy or subscribe to anything. That being said, your CTAs should be done perfectly. They must stand out without being visually assaulting. They must align with the current page and according to the buyer's journey. Above all, they must be relevant and used sparingly. Too many CTAs on one page can confuse your user.
Final thoughts
Web design is an ever-evolving field. To achieve greater success in your goals, you must keep abreast of all the possible trends, while avoiding possible pitfalls and mistakes. While you may never have a perfect journey in design, you could still come close to perfect if you take the user experience into account. After all, if you aim for customer satisfaction, you aim for success.
If you're looking for a web design agency to help build a website for your Sunshine Coast business, send us at F8 Media a message. We are an Australian leader in website design and can build your brand and online presence.