As a business owner, you know by now the importance of graphic design and what it does to your business. Whenever you plan sales strategies and marketing campaigns, it comes with no surprise that graphic design will also come into the picture. However, since you and your graphic designer are masters of different departments, your goals may be lost in translation.
Good design isn't easy to come by since creating something authentic and compelling requires a lot of skill and artistic understanding to produce high-quality work. But one thing's for sure, collaboration involves communication, and with effective communication comes clear directions.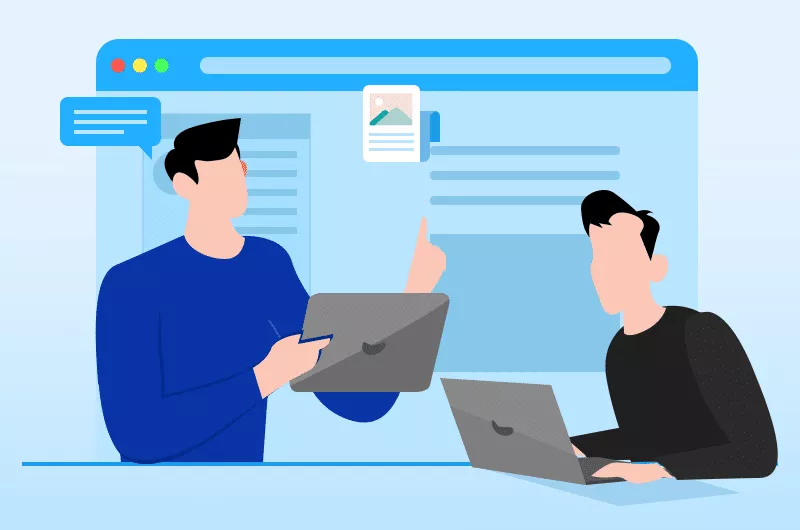 This is why building a relationship with your designer is so important. Besides, when you work with a graphic designer, you'll most often deal with web designers and developers as well, so proper communication can truly come in handy.
If you want to avoid problems during the design process, it's important to learn how to effectively communicate with your designer. Here are some essential tips on communication that will help you have an enjoyable design process with your graphic designer.
1. Be Clear and Constructive
One of the most important things you should remember when collaborating with your graphic designer is to stay definitive. This means that you give consistent, clear, and constructive brief as well as detailed feedback. This way, your designer will know where to begin and form a clearer direction.
Designers want to nail their client's brief all the time, but it may be difficult on their end when what you want isn't clear. Ensure that you allow them to ask questions and provide them with as much detail as possible to save time and effort. Being specific will also enable them to stay on the right design path as well.
Remember — this doesn't only apply to graphic designers. Being mindful about how you communicate will also help your web designer and developers as well!
2. Provide Visual Inspiration
Sometimes the design concept can get lost in words, making you and the designer drown in ideas none of you can execute. The best way to help your designer understand what artistic direction you're going for us by providing visual examples and inspiration.
However, just because you provided a photograph or illustration doesn't mean you don't need to talk — this is wrong. When you provide a visual example, it's best to explain to your designer why you chose it, what changes you can make that will fit your brand, and the artistic feel you want as a result.
3. Constructive Criticism
Sure, expert graphic designers may have developed thick skin after being in the design industry for so long. However, you must remember that they are still human, and you want to avoid being seen as a "bad client."
The best way to give your designer feedback is to try to ease the criticism by focusing on areas that need improvement in the design rather than putting a spotlight on all their mistakes. Unnecessary, negative feedback can significantly affect your relationship and won't help any of you in the design process.
4. Set Clear and Realistic Expectations
Finally, one of the most important things you need to remember when communicating with your graphic designer is setting clear expectations and ensuring that it's feasible with the given timeline.
Remember — graphic design is not a piece of cake, and there's no such thing as perfection. Remaining rigid can't interrupt you from reaching your end goal.
With that, ensure that you allow flexibility in your design process while remaining true to the goal, recognise good design, and deliver the best possible outcome with proper communication.
The Final Thought: You Can Have A Colourful Relationship With Your Graphic Designer With Proper Communication.
Communication is essential for any relationship, but you need to be more mindful about how you communicate when working on a meticulous, time-sensitive graphic design project. Fortunately, our list of essential tips will help you focus on what truly matters in a client-designer relationship.
Start being more mindful about how you collaborate with your designer and watch them flourish and produce fantastic artistic output.
Are You Looking For A Company That Specialises in Graphic Design in Caloundra?
Digital marketing and design can be incredibly intimidating, but if you work with a reliable digital company, you can finally throw all your worries out of the window.
F8 Media is Australia's leading digital company that specialises in website design, web-based application development, mobile-friendly websites, e-commerce, graphic design, and digital marketing. Learn more about our services today!